Pub crawl movie The World's End filmed in former 'dry town'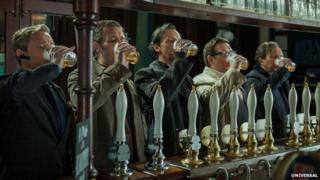 It is a movie about a pub crawl - filmed in a Hertfordshire new town where licensed premises were originally banned.
The World's End, starring Simon Pegg and Nick Frost, used locations in Letchworth, the UK's first garden city, for many outdoor scenes.
The film, which premiered on Wednesday, tells the story of five school friends who reunite after 20 years for a pub crawl with the aim of reaching their final stop, The World's End, for the first time.
Pegg leads the friends on a drinking marathon in the small English town of Newton Haven where they grew up.
Tourism chiefs in Letchworth were delighted the town was chosen for filming - but the irony has not been lost on historians.
Until 1960, Letchworth was a dry town, with the only inn, The Skittles, selling soft drinks.
'Alien invasion'
It was the first garden city to be built based on Ebenezer Howard's vision of communities, which combined the best aspects of town and country living.
It was completed in 1905, but there was no licence to sell alcohol in the town centre until 1960, with its first licensed public house opening in 1974.
Vicky Rawlings, from the First Garden City Heritage Museum, said townspeople "voted" a number of times for no alcohol to be sold there, based on Howard's belief that communities should choose how to operate.
She said: "It was such a utopian vision that people wanted it to be a pleasant and family-orientated place to live.
"It has led to the urban myth of it being a Quaker town, although a lot of Quakers did live there."
Pegg said Letchworth was chosen because the film needed to be set in a "relatively new city" and revealed it also looked ideal for an "alien invasion".
Tourism boost
"We had this idea it was where these five boys had grown up and obviously the first garden cities that spring to mind are Welwyn and Letchworth," said Pegg.
"We liked that idea as a site for alien invasion - it's also like a crop circle when you look at it from above, with all the roundabouts."
There are now about five pubs in the town, but as the film features 12 other buildings had to be used.
North Herts district councillor Tom Brindley said: "When you look at a bank and then a pub in the film, you will think - 'that's the same place'.
"There are some great pubs in Letchworth, it's a pity there aren't as many as there are in the film, but what it does have are great."
Council leader Lynda Needham said she hoped the town would get some tourism spin-off, despite the "element of irony" about the lack of licensed premises.
"We're hoping when people see how really pleasant Letchworth is, they will come to see us," she said.
The film opens in cinemas on 19 July.