Dunstable Downs: Ex-addict campaigns for weekend bus service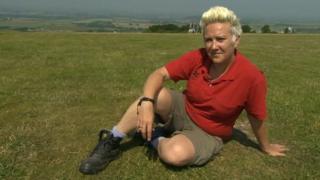 A former drug addict has persuaded a local bus company to run services to the beauty spot she credits with turning her life around.
Jess Sampson, 35, began volunteering for the National Trust at Dunstable Downs, Bedfordshire, while overcoming an alcohol and cannabis problem.
She has convinced a local firm to run a Sunday service to the Downs in December and possibly next summer.
Ms Sampson said: "Coming up here can help you forget your worries."
She said that three years ago she was drinking 20-25 cans of cider and smoking £20 of cannabis a day and had severe depression.
'Out of control'
She started volunteering at the chalk ridge hills for the National Trust last November after it was suggested by the people who treated her addictions.
"I couldn't go out and meet people unless I was drunk and my drinking and drug-taking was spiralling out of control," she said.
"Finding this place has completely changed my life around.
"It gives me a buzz to be up here every day, it's given me confidence and a purpose and I feel happy every day when I wake up - I don't feel 'grey' anymore."
Ms Sampson has been campaigning to get local bus firms to go to the Downs since the start of the year.
"My way of giving something back for the help that I have been given is to make Dunstable Downs more accessible for everybody, but without transport to this beautiful place, it isn't."
'Great idea'
A bus service currently runs during the week, but not at weekends.
Grant Palmer Ltd. of Flitwick has agreed to run three services between Houghton Regis, Dunstable and the Dunstable Downs Gateway Centre on 15 December when the National Trust is holding a Christmas Fair.
Grant Palmer, managing director, said it was a "great idea" to run a weekend service. He hopes to run a similar service in the summer using the firm's 1965 red London Routemaster bus.
"I'm a Lutonian and Dunstable Downs is a great place to visit, but there's no public transport up to the Downs."
The bus will be £1 each way for adults, 50p for children or free to National Trust members.