Wheathampstead Swan Pub fire: Listed building damaged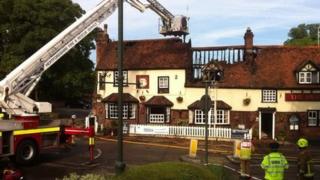 A 15th Century pub in Hertfordshire has been severely damaged in a fire.
The blaze hit The Swan in High Street, Wheathampstead, about 05:40 BST. Six fire crews were called to the scene.
It started in a bedroom of the Grade II listed building and spread to the roof, a large part of which was destroyed.
Four people and a parrot were in the building, although they escaped unharmed. The High Street remains closed between the Butterfield Road and the East Lane junction.
Fire crews remain on the scene damping down and clearing roof tiles to allow access to any remaining burning embers.
Ian Markwell, from Hertfordshire Fire and Rescue, said: "The crew were met with a well developing fire coming from the roof. It's now just a case of putting out any hotspots and salvaging what we can.
"There's not much in the way of fire damage as we come down below the roof level and the first floor bedrooms... I'd estimate a few months and things will be put back to how they should have been."
The fire service said the High Street would reopen once it had confirmed the building was "structurally safe".