Anger over 'missing abuse files' on Shefford St Francis orphanage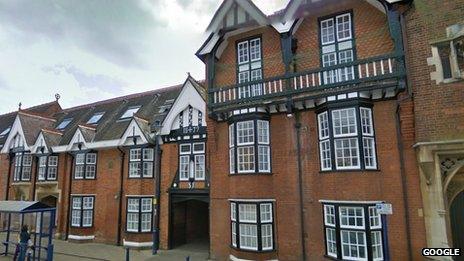 A former resident of an orphanage at the centre of historic child abuse allegations has made a formal complaint to police about the apparent loss of files relating to previous inquiries.
Former residents have alleged they were abused by Father John Ryan at St Francis Boys Home in Shefford, near Bedford, in the 1950s and 1960s.
Damian Chittock has complained about the missing police files.
Bedfordshire Police said the complaint was being considered.
Fr Ryan, who died in 2008, was arrested in 2003 but released without charge.
A new investigation has started this year, after new allegations of sexual abuse at the home which was run by the Roman Catholic diocese of Northampton.
Earlier this month the BBC revealed that Bedfordshire Police files that led to Mr Ryan's arrest were missing.
A Bedfordshire Police spokeswoman said that the "files have not been located... at this moment in time", but officers in the new inquiry were talking to officers involved in the old investigation.
There was also an investigation in the 1990s, details of which Mr Chittock believes have also gone missing.
Mr Chittock, who says he was physically abused at the home, has written to the chief constable of Bedfordshire, Colette Paul.
In his letter he says: "It seems to me rather than look to undermine the investigation, the third by Bedfordshire Police since 1994, your officers would do better to discover where the files on those two previous investigations have gone. I am reliably informed that these files are 'lost'.
"I have heard enough stories of boys being returned to the home after having run away. Those stories have a consistent theme in that the police returned them to the abusive place after having been informed of that abuse by the child.
"I particularly am concerned about the missing files of the two previous investigations."
Earlier this month, Tony Walsh, 65, who was born in Bury St Edmunds, Suffolk, and was sent to the home in the 1950s, waived his right to anonymity. He says he was sexually abused by Mr Ryan at the home.
His allegations led to the priest's arrest in 2003, but Mr Ryan was released without charge and died in 2008. Mr Walsh said he felt "let down by police".
A spokesman for the Northamptonshire Diocese of the Catholic Church, which ran the home, said it "deeply regrets" any hurt caused, but that the "claims are not proven".
Related Internet Links
The BBC is not responsible for the content of external sites.