Milton Keynes 'prepared' for Bedford patient increase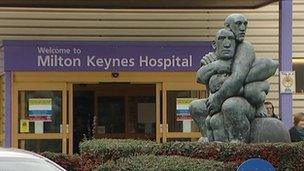 A Buckinghamshire hospital says it will be able to cope with an increase in patients after the closure of some services at a facility in Bedfordshire.
Accident and emergency services have been suspended for children and people under 19 at Bedford Hospital because of concerns over staff numbers.
Milton Keynes Hospital will take on some of the cases.
Chief nurse Lisa Knight said: "We are prepared and high quality care remains our priority."
Planned surgery and overnight observation after A&E treatment have also been suspended.
The interim measure by Bedford Hospital NHS Trust follows the withdrawal of junior doctors because of a shortage of senior staff to train them.
Ms Knight, who is also director of patient care said: "We have been working with Bedford Hospital to ensure children's services continue to run safely and effectively.
"This is of the upmost importance for our patients in Milton Keynes and also the small number of patients who will be coming to us from Bedfordshire."
The hospital also confirmed it does not expect patient waiting times to go up because "we have sufficient staffing and resources to meet any increase in demand".
The changes were brought about by a decision by Health Education East of England and the General Medical Council.
Related Internet Links
The BBC is not responsible for the content of external sites.