Luton rush-hour shooting victim appeals for witnesses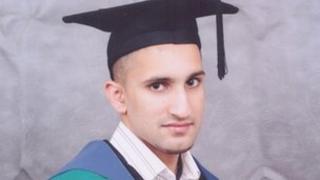 A man left unable to walk after being shot during the rush-hour in Luton has said he is "disappointed" by silence from the local community.
Atif Ali, 27, was shot in the leg in Dunstable Road at the junction with Leicester Road on 20 May.
His family has put up a £15,000 reward for information leading to a conviction, and the trainee accountant is hurt nobody has come forward.
"It is not possible that nobody saw anything at all," he said.
Mr Ali, was driving a silver Audi A3 which was hit from behind by another car just before 08:00 BST.
When he got out to assess the damage he was shot in the leg by the driver of the other car, who then drove off.
Cannot walk
"I was looking for any damage to the car when I heard a loud bang," he said.
"As I lost my balance I fell to the floor looked down and saw my leg hanging off. I managed to drag myself to the pavement and call for help."
He said he did not get a look at the man who shot him but has no doubt others did, and he has no idea why he was targeted.
"There are bound to be people out there who will have seen something, it was rush hour," he said.
"Except for a parking ticket I have never had any trouble with the police in my life."
Mr Ali added it was "a bit disappointing and hurtful" that his family had to offer a reward to try and get justice.
"Everybody knows everybody [in Luton] and the majority of people who were around at the time know me," he said.
After seven operations and nearly two months in hospital, he has now returned to his family home in the town.
Doctors have told him they do not know if he will be able to walk again but he said he is "trying not to think about it".
"The only thing that has been going through my head is getting myself back on my feet," he said.
"I am not really the type of person who sits there and cries about things."
Not connected
Bedfordshire Police say they believe the shooting is not connected to the recent spate of gang-related gun crime in Luton.
Officers are trying to trace a silver saloon-type vehicle, thought to be a Ford Mondeo, with registration number YM02 XYJ.
The driver has been described as a skinny, 6ft tall (1.8m) tanned or Asian man with a dark grey beard and carrying a yellow JD sports bag.
They believe Mr Ali was followed from his home by this car and a black Audi which they are also keen to trace.
A spokesman said: "A man has been arrested in connection with this investigation on suspicion of conspiracy to murder and other related offences but we are a long way from solving this inquiry."
You can hear more on this story on the BBC Asian Network on Thursday at 13:00 BST and 17:00 BST and BBC Three Counties Radio on Thursday and the full interview on Chetan Pathak Show on Sunday at 18:00 BST.