Milton Keynes dad Ken Spooner wins battle to bring sons home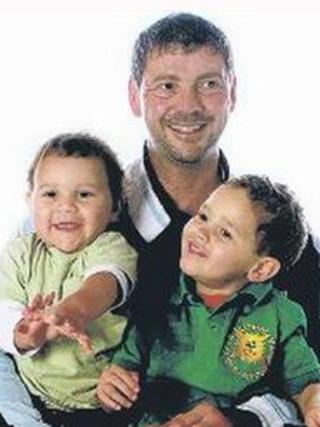 A Milton Keynes father, whose children were abducted by their mother nearly five years ago, has won a legal battle to bring them home.
Ken Spooner's two sons, Devlan and Caelan, were taken on holiday to Zambia by Zanetta Nyendwa in October 2008, but she never returned them.
The Zambian Supreme Court granted the dad custody in 2012, and rejected the boys' mother's appeal on Thursday.
Mr Spooner called the judgement "monumental and definitive".
The Great Linford dad said when Miss Nyendwa took the boys, they were aged three and two.
"I first realised that something was wrong about week into the holiday, when Zanetta told me she wanted to extend their stay," he said.
"I heard alarm bells and refused my permission."
He said she refused to tell him over several phone calls when they would return and it soon became clear she would not send them back.
'Catching up'
Zambian authorities had originally rejected the validity of an English High Court Order demanding the children be returned home.
But after a long legal battle Mr Spooner was awarded custody of the children last September, pending the appeal, but the children remained with their mother.
Following Thursday's judgement, Mr Spooner, from Great Linford, said: "At last my boys can come home.
"I now have five years of catching up to do, but those moments with my children that I have been deprived of can never be replaced.
"I give thanks to the Zambian judiciary for doing justice for my boys, and for every other parentally abducted child worldwide.
"Now moving forward, hopefully my children can enjoy a relationship with both parents."