Bedford Hospital will treat children in A&E for minor injuries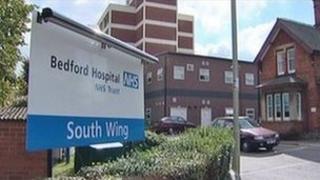 Managers at Bedford Hospital have confirmed a partial U-turn over plans to suspend emergency treatment for the under-19s.
This week the hospital said staff shortages meant it was ending accident and emergency services.
It also said it would suspend children's planned surgery and overnight observation after A&E treatment.
The hospital has now said A&E will treat children for minor injuries.
It said this would be limited to injuries which could not be dealt with by a GP.
The hospital said its decision was made as part of "continuing discussions" with other health organisations in the area.
Acting chief executive Stephen Conroy said: "We are listening to local people and doing as much as we possibly can to minimize the impact changes to children's services will have on families in Bedford while ensuring the safety of patients."
He said examples of treatment which would be given to children included stitching a wound or taking an X-ray.
However, children needing observation or hospital admission will still be transferred to Milton Keynes Hospital or another neighbouring hospital from 1 August.