Amelia Arnold murder: Jack Wall jailed for life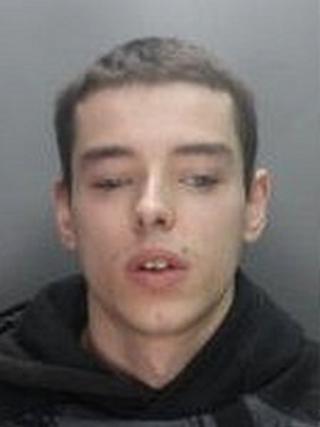 An abusive boyfriend who murdered his 19-year-old partner at their home in Hertfordshire has been jailed for life.
Jack Wall, 22, of Hadrian's Walk, Stevenage, killed Amelia Arnold during an argument on 8 November.
He was given a life sentence with a minimum term of 19 years at Blackfriars Crown Court.
His uncle, Joseph Potter, 42, from Bletchley - who helped him dispose of the body - was jailed for two and a half years for assisting an offender.
Potter's charge also included obstructing a coroner.
Ms Arnold's father, Laurence Arnold, believes more could have been done by the authorities to help her.
During the trial at Blackfriars Crown Court, the jury heard Ms Arnold, a mother of one, had been trying to end the "abusive" relationship.
Wall hit her on the head eight times using a "dumbbell-like" object, before strangling her, his trial was told.
He took wires from his games console, tied her up in a foetal position and, with Potter, drove about 11 miles to Hatfield to bury her body in woodland, where it was found three days later.
Wall admitted manslaughter, saying he did not intend to kill her - but the jury disagreed.
Jailing him for life, along with a four and a half year sentence for obstructing a coroner, Judge Aidan Marron QC said he subjected the "devoted" mother to "consistent and persistent physical and verbal abuse".
"It is my view that she was terrified of you... you sought to control not just her but everything about her," he said.
"She saw sense and was determined to end the abusive relationship. Your response to that was to attack her."
His sentences will run concurrently.
'Kicked her'
Last October, Ms Arnold saw cognitive behavioural therapist Jayne Coulson, who told the court the verbal and physical violence had started in August 2012.
She said Wall threatened to snap Ms Arnold's neck in her sleep, accused her of doing things she had not done, and at one point threw a table and a pair of scissors at her.
Ms Coulson advised the teenager to go to the Women's Resource Centre in Stevenage and also referred her to children's services.
The jury heard that at the end of September 2012, Ms Arnold asked a housing officer at Stevenage Borough Council if Wall could be re-housed because the two-year relationship had broken down.
She said he had "clumped her round the head and kicked her" on two occasions, but she was too scared to report it to police.
'So scared'
Mr Arnold said: "More could have - and should have - been done to help my daughter.
"She was so scared of this man that she was unable to tell her family how she was being treated and he threatened if she did tell anyone, especially the police, he would kill her.
"No one should be treated the way my daughter was prior to her death."
Hertfordshire County Council said after her daughter's birth in 2011 there were "contacts" between Ms Arnold and children's services, but there were "no concerns about the child's welfare".
"Although Amelia indicated that her relationship with Jack Wall was volatile on occasions, there was no indication that either she or her child were in any danger," a statement read.
Nick Parry, chief executive of Stevenage Borough Council, said it was reviewing how it dealt with the case to see what lessons could be learned.
"We provided Amelia with advice on where to seek help and referred her case to children's services," he said.
Det Insp John Arthur, from Hertfordshire Police, said the force understood it could be "extremely difficult" for domestic abuse victims to seek help but urged them to come forward.
He said: "I would like to reassure anyone suffering this form of abuse that cases are dealt with sensitively and robustly by police."