Crews still at Bentley Heath fire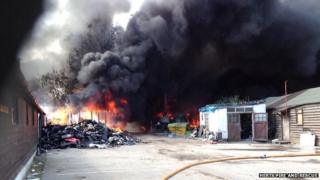 Firefighters remain at the scene of a large fire in Hertfordshire that forced the closure of a section of the M25 motorway.
The blaze broke out in workshops and garages at Dancers Hill Road in Bentley Heath, Potters Bar, at about 15:10 BST on Monday.
The M25 was shut for a time between junctions 23 and 25 in both directions as smoke drifted towards it.
A nearby industrial estate and pub were also evacuated. Nobody was injured.
More than 60 firefighters tackled the blaze, which destroyed buildings and vehicles.
One fire crew remained at the scene on Tuesday.
A fire in a diesel tank was being allowed to burn and burning rubbish was being damped down.
A spokesman for Hertfordshire Fire and Rescue Service said an investigation had begun into how the fire started.
"Our firefighters did very well in arduous conditions," he said.
"It was very hot and humid and they had a really tough job."