'Oldest lollipop lady' Beryl Newton retires at 90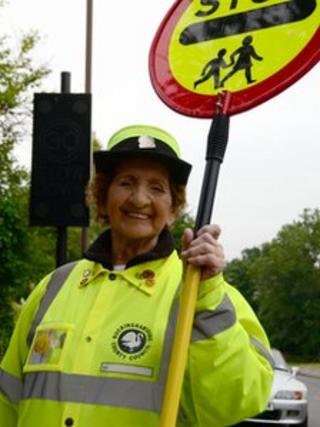 A 90-year-old school crossing warden, thought to be the UK's oldest, is putting down her lollipop and yellow coat for the final time.
Beryl Newton has been patrolling outside her local infant school in Chalfont St Giles, Buckinghamshire, for "15 wonderful years".
"Being a lollipop lady meant I could still keep an eye on my grandchildren," Mrs Newton said.
The current Guinness World Records holder retired in 2003, aged 82.
Mrs Newton applied for the job in 1998 after her granddaughter came home from school with a leaflet advertising the role.
"I made a pledge when I got the job in 1998 to do 15 years," Mrs Newton said.
"I've worked with children over many, many years and it has been very important to me to help to see how to cross the road properly."
Mrs Newton said she was proud that no accidents happened while she was on duty.
After taking a holiday to Florida with her daughter, Mrs Newton plans to volunteer at a local charity shop and join the Women's Institute.
A school assembly was held in her honour after her final morning patrol.
Carl Etholen, chairman of Buckinghamshire County Council, said everyone was "immensely proud" of Mrs Newton.
"Beryl has served the community superbly over 15 years in all weathers and it's right we honour her at this special assembly."