Bedford Hospital protest over children's A&E suspension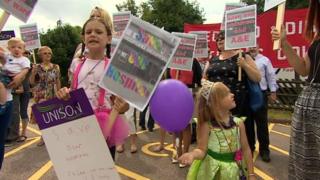 About 100 people have held a protest outside Bedford Hospital, which is suspending its accident and emergency service for children.
From next week, under-19s with anything more serious than a minor injury will be transferred to another hospital.
Protest organiser Ray McKeating said it was "very important" to keep the service in the town.
Bedford Hospital NHS Trust said staff shortages had led to the move.
Planned surgery for children and overnight observation are also being suspended.
Acting chief executive Stephen Conroy said examples of minor injuries included stitching a wound or taking an X-ray.
But Mr McKeating said it was "too much trouble" for some people to travel away from Bedford for treatment.
"It's a mistake which shouldn't have happened," he said. "As a result we've lost key services and are having to fight our way back and get these services localised again."
Another protester, Fizz Heseltine, said she felt the transfer time from Bedford to Milton Keynes Hospital, which is about 15 miles (24km) away, was too long.
"The one time I had to call an ambulance we had to wait 45 minutes, and then 45 minutes to get to Milton Keynes General Hospital," she said.
"That's life or death for some children, it's not acceptable."