Barbados rapes: Watchdog inquiry criticised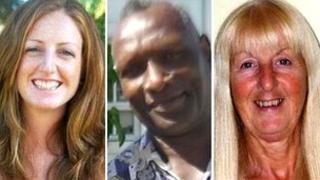 A British woman who was raped in Barbados has criticised a watchdog's investigation of the police inquiry.
Diane Davies, 63, from Anglesey, and Dr Rachel Turner, 30, of Hertfordshire, were attacked in October 2010.
Both women waived their right to anonymity to criticise the rape inquiry and helped free a man they said had been wrongly accused of the crime.
Mrs Davies said she could not understand how the Police Complaints Authority (PCA) found no misconduct.
At the end of last year, Dr Turner and Mrs Davies called for an inquiry into their treatment by Barbadian police and into why officers kept insisting on Derick Crawford's guilt long after the women told them he was not the attacker, and when there was no forensic evidence linking Mr Crawford to the crimes.
'Out of order'
In December after the dismissal of the case against Mr Crawford, 47, who spent 18 months in jail - despite Dr Turner and Mrs Davies telling police he was not the rapist, he told a press conference he was coerced into making a confession.
In a statement to Mrs Davies, the PCA wrote: "This is to inform you that an investigation of your complaint was carried out by the Police Complaints Authority. No misconduct by any members of the Royal Barbados Police Force has been found."
Mrs Davies told the BBC said she was angry at the PCA's ruling.
"There were no details of this investigation and not even a simple apology. I find this unacceptable as I know that their behaviour was totally out of order on many counts," she said.
"It is obvious that I will never get that apology or indeed get justice for the crime committed against me. I just pity the next victim who has to rely on the Barbadian Police Force."
The pair's attacker has never been caught.