South Beds Dial-a-Ride withdraws service from Luton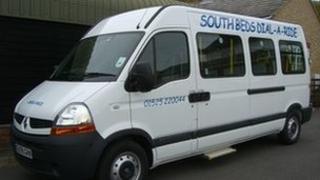 A free service for the elderly and disabled in Luton is being withdrawn after 25 years after a charity said it cannot afford to run it.
South Beds Dial-a-Ride said it would not serve the town from 12 August but would focus instead on services for the Central Bedfordshire Council area.
Coordinator Dave Barratt said it took the decision last Wednesday to stop it going out of business completely.
Luton Council said it had agreed to fund the service until April 2014.
Funded by Central Bedfordshire Council and Luton Borough Council, the service takes its customers from both areas to places including day centres, lunch clubs, therapy centres, medical appointments and shops.
It does about 22,000 journeys in Luton each year, for which it receives about £130,000 from the council, but said in recent years it had "effectively been subsiding the service from its own reserves".
"Having incurred significant financial losses in Luton over the past two years, [we] would go out of business in six months if we did not take urgent action now," said Mr Barratt.
"If that happened we would not be able to help anybody, anywhere."
'Interim service'
Luton Council had decided to remove the charity's subsidy for concessionary fares from next April, which would reduce its funding to the service by 37%, but said as yet it "hadn't withdrawn a single penny from them".
Councillor Mohammed Hussain said he met with the service last week and had been "very surprised" by the "sudden decision".
"For a charity to do something like that to the most vulnerable people [at short notice], I was disappointed and shocked," he said.
"Our key priority is ensuring an interim service and we are focusing on vulnerable customers receiving care packages and those with severe mobility issues."
The town's Shopmobility service said the council approached it on Friday to provide "an ongoing interim service" but was "flying blind".
Spokesman Ron Miller said: "We have no lists or contact numbers of all the people using Dial-a-Ride in the Luton area, so we are totally dependent on people phoning in and stating what their requirements are."