Stoke Mandeville: Paralympics' birthplace hospital honoured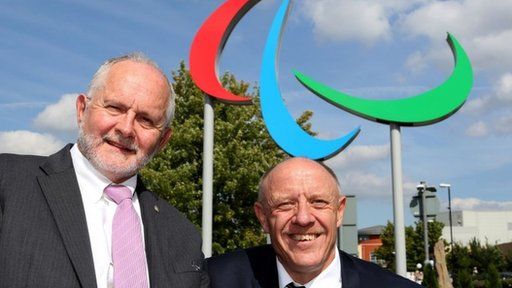 The hospital in Buckinghamshire that pioneered sport for patients with spinal injuries is to be honoured as the birthplace of the Paralympic Games.
Stoke Mandeville Hospital is to feature in all future Paralympic Games torch relays, IPC president Sir Philip Craven has announced.
The first event will be the relay for the Sochi Paralympic Games next March.
Stoke Mandeville hosted the first recognised forerunner to the Paralympic Games in 1948.
The games were inspired by German spinal injuries doctor Sir Ludwig Guttman.
To mark 12 months since the start of the London Paralympic Games Sir Philip said: "The torch relay is a significant event in the staging of every Paralympics.
"It is fitting that for each future edition of the games we celebrate Stoke Mandeville's rich history and proud heritage as the Paralympic movement's spiritual birthplace.
"By always hosting a leg of the Paralympic torch relay ahead of each Games we are ensuring that the role of Sir Ludwig Guttman and Stoke Mandeville in helping to create the foundations for what is now one of the world's biggest sporting events is communicated around the world and never forgotten."
Stoke Mandeville will form the only international component of next year's Sochi torch relay, which will also visit 46 cities in all eight Russian federal districts, and involve over 1,500 torchbearers.
Related Internet Links
The BBC is not responsible for the content of external sites.