Darius Henderson trial: Footballer denies assault claim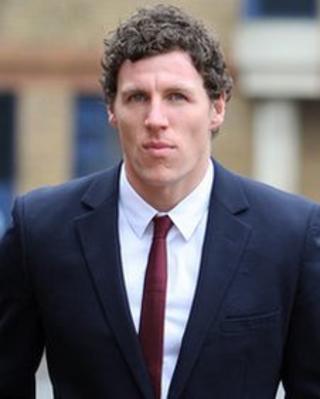 A court has been shown CCTV footage of the moment a Championship footballer allegedly threw two punches at a diner over claims a woman had sex with him.
Nottingham Forrest striker Darius Henderson, 31, was out with his girlfriend when Hazel Kent, 48, made the claim, St Albans Crown Court heard.
John Bell, 41, who was in the same restaurant, was allegedly hit when he tried to calm Mr Henderson down.
The player, of Markyate, Hertfordshire, denies causing grievous bodily harm.
Mr Bell suffered a depressed fracture of his left cheekbone and a cut to his left eye socket.
He later had to undergo surgery.
Boxer shorts
Mr Henderson and his partner Lucy Caplan were at Darcy's in St Albans on New Year's Eve 2011 when Ms Kent confronted them.
Prosecutor Alan Richards said that, for reasons best known to herself, Ms Kent was unpleasant towards Mr Henderson and Miss Caplan, saying she had recently had sex with the footballer.
"There is no reason to believe that this was anything other than pure fiction, but Miss Kent persisted," said Mr Richards.
He went on: "It seems she may have correctly identified the brand of his boxer shorts.
"Understandably this upset Miss Caplan and perhaps caused some tension between her and Mr Henderson."
The court heard that Mr Bell and his party were near Mr Henderson and Miss Caplan.
Mr Bell then began to talk to Mr Henderson.
Mr Richards said the barman, Jack Oakley, was under the impression Mr Bell was trying to calm the situation down.
'No threat'
"It is possible that his intervention caused Mr Henderson, who was already, the crown say, upset and angered by Ms Kent's behaviour, to perceive Mr Bell as somehow associated with her."
He went on: "What is absolutely clear... is that Mr Bell posed no threat to Mr Henderson whatsoever.
"Even if the intervention was unwelcome, it could not even begin to justify what Mr Henderson then did."
Mr Henderson, who was playing for Championship side Millwall at the time, signed for Nottingham Forest on a free transfer in January this year.
He began his senior playing career as an 18-year-old at Reading in 1999 and has also played for Gillingham, Sheffield United and Watford.
The trial continues.