Darius Henderson trial: 'Escort' claim made by woman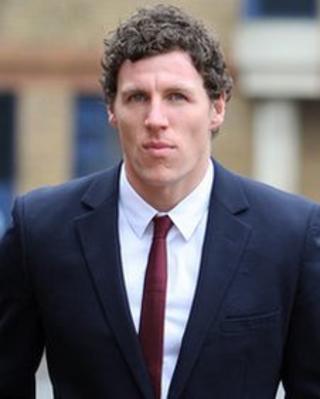 A barman has told a jury how the girlfriend of a Championship footballer was confronted by a woman who claimed she had sex with the player.
Jack Oakley told St Albans Crown Court he tried to usher the woman from Darius Henderson's girlfriend Lucy Caplan.
Later, the "upset" striker allegedly punched another man in the restaurant who had tried to calm the situation.
The 31-year-old Nottingham Forest player, of Markyate, Hertfordshire, denies assault.
'An escort'
Mr Oakley was giving his evidence from Australia via a video link to the court, where Mr Henderson is on trial accused of inflicting grievous bodily harm on 41-year-old John Bell, who was dining in the same restaurant on New Year's Eve 2011.
Mr Bell suffered a fractured left cheekbone and a cut to his left eye socket and had to undergo surgery after the alleged incident at Darcy's in St Albans.
The jury had heard Mr Henderson was in the restaurant with Ms Caplan.
Hazel Kent, 48, approached the couple when they went to the bar and claimed she had had sex with Mr Henderson.
The court heard Miss Caplan was left distressed and stormed out of the restaurant.
Mr Oakley told the jury he had been on duty that night and was aware of Ms Kent approaching Mr Henderson and Miss Caplan.
He said he could not hear what was said but realised the couple were not happy.
He said he had to usher Ms Kent away from them three times.
The barman told the court he found out that Ms Kent had told Ms Caplan, in front of Mr Henderson, that she was an "escort" and had said: "I know what your house is like inside."
"There is no reason to believe that this was anything other than pure fiction, but Ms Kent persisted," prosecutor Alan Richards said.
It is alleged that when Mr Bell, who was with his partner and some friends, tried to calm down the situation and spoke to Mr Henderson, the player punched him in the face.
Mr Henderson, who was playing for Championship side Millwall at the time, signed for Nottingham Forest on a free transfer in January this year.
He began his senior playing career as an 18-year-old at Reading in 1999 and has also played for Gillingham, Sheffield United and Watford.
The trial continues.