National Trust opens Big Brother house at Elstree Studios to public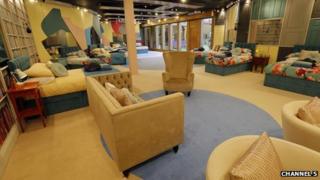 The house featured in Channel 5's Big Brother programme will open to the public as part of a National Trust bid to attract younger visitors.
It will offer guided tours of the site at Hertfordshire's Elstree Studios for two days in September.
Trust London director Ivo Dawney said: "The Big Brother House is a special place and the trust is all about special places."
Channel 5 said it was excited about the project.
Reality TV series Big Brother sees contestants live together for a number of weeks, isolated from the outside world and trying to avoid eviction by fellow "housemates".
The first series in 2000 was filmed in east London but it moved to its current home at the Shenley Road studios in 2002.
Opening the TV house is part of the National Trust's London Project, a department which looks at new ways of attracting a younger audience to the 300 properties it looks after across England, Wales and Northern Ireland.
'Digital era'
Working with production company Endemol and Channel 5 to open the house as a trust property, the trust said it had "always been about getting people into special places".
A spokesman said about two million people tuned in to watch this summer's final "eviction night", "only a little short of the number who visited the Tower of London last year".
Mr Dawney said: "It's special because of the way people are interested in the people who have lived there and its special because it says something about an epoch we're living through.
"You could say we're beginning to enter the stately home of the digital era.
"The great houses of our past reflected the tastes of the day and so does the Big Brother house.
"The fact that the garden is not the parterre at Cliveden but is more like the astro-turfed gardening section of a DIY store actually makes it more relevant to modern society."
As at all National Trust properties, visitors will be greeted by a volunteer, and will be able to have a guided tour and buy a guidebook telling the stories of people who lived there.
A Channel 5 spokesman said: "We and Big Brother are excited to be working with the National Trust to open the house up to the public."
The Big Brother House will be open on 27 and 28 September.