Barnfield incinerator public inquiry opens to protests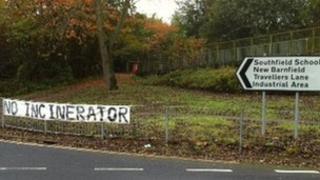 A public inquiry into plans for a new energy-from-waste incinerator in Hertfordshire has opened.
Up to 200 protesters against the New Barnfield plant were outside the venue in Hatfield as the inquiry opened.
Hertfordshire County Council agreed the plans in October but now a government inspector will decide if planning permission should be granted.
The public inquiry report must be submitted to Secretary of State Eric Pickles by 16 December.
The proposal was called in for further scrutiny by the Department for Communities and Local Government (DCLG) in January.
Pollution fears
A spokeswoman confirmed there was "no timescale on when a decision will be made".
Developers Veolia Environmental Services have stopped moving forward with the plans until Mr Pickles makes a decision.
The county council said the facility will end its reliance on landfill, which costs council taxpayers about £25m this year, and generate enough electricity to power the equivalent of 50,000 homes.
Protesters are concerned the plant will lead to increased pollution and generate a lot of traffic close to people's homes and schools.
Cathy Roe, from Hatfield Against Incineration, said: "This is in the wrong place near a school for children with special needs, areas used by the community for walks, a recreation ground and cemetery.
"It has also not been established that the electricity generation will be efficient and carbon dioxide, a greenhouse gas, will be produced."
'Right proposal'
Terry Douris, cabinet member for waste management, said: "Our priority is to help residents to reduce, reuse and recycle more and more of their waste.
"Sending waste to landfill will cost Hertfordshire taxpayers approximately £25m this year so doing nothing is not an option.
"Veolia's proposed facility is the right one for the county.
"It would not only end the county council's reliance on landfill, which is expensive and environmentally damaging, it will also generate electricity - enough to power the equivalent of 50,000 homes."