Milton Keynes £25m complex to be funded by Crown Estate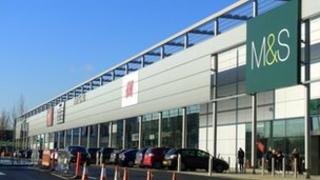 A £25m leisure complex in Milton Keynes is to be funded by the Crown Estate, developers have confirmed.
Inter MK, owned by MK Dons chairman Pete Winkelman, will receive the full amount to build the MK1 Leisure Park, next to the football team's Stadium:MK.
Plans include a 15-screen cinema and eight restaurants.
A Crown Estate spokesman said it was the first leisure development outside London it had funded, although it did invest in InterMK's MK1 Shopping Park.
The Crown Estate is a property business, with assets valued at £8.6 billion, owned by the Crown and governed by an Act of Parliament, which pays its profits to the Treasury, for the benefit of the nation.
Under the Crown Estate Act 1961, its objective is to enhance the estate's value and the revenue it produces.
'Fantastic addition'
A spokesman said that while the property it managed belonged to the monarch "in right of the Crown", it was not the Queen's private property.
She therefore cannot buy or sell any of The Crown Estate's assets and has no voice in its management.
James Cooksey, from the estate, said the scheme will make "a fantastic addition to our portfolio".
He added it had also strengthened its holdings in Milton Keynes by buying the DW Health and Fitness unit at the same site, from InterMK for £7m.
Mr Winkelman said the development will "strengthen the overall site's reputation as one of the most popular leisure destinations in Milton Keynes and the wider region".
Work is due to be completed in the autumn of 2014.