Sharif Demirsay murder: Stolen jewellery recovered by police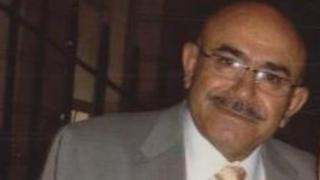 Police investigating the murder of a grandfather during a robbery at his home say they have found the jewellery that was stolen in the attack.
Sharif Demirsay, 65, was stabbed in Kempston, Bedfordshire, during the evening of 14 May.
Officers said Mr Demirsay's partner's gold Asian-style jewellery was found during a search at a premises in Queen's Park, Bedford, on Wednesday.
The items have now been sent for forensic testing.
The development comes a day after a 15-year-old boy from Queen's Park was arrested in connection with the case, but police said the jewellery was found at a different address to where he lived.
'Breakthrough'
He and four other teenagers have been bailed while inquiries continue. Another man has been released without charge.
Mr Demirsay was killed and his partner injured when he answered the door to three men who forced their way into his home.
Bedfordshire Police said she had identified the stolen jewellery, some of which was given to her by her family after her first marriage.
Other jewellery was also found, but so far the owners have not been located.
Det Ch Insp Tim Redfearn said the findings had been a "breakthrough" and police were now getting "closer" to a conclusion.
But he added he still wanted people with information to come forward, with a £10,000 reward available for someone who helps with a successful conviction.