Town hall will house Hitchin and Letchworth museums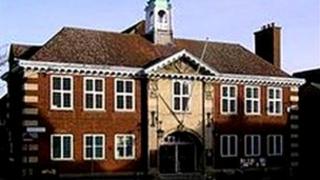 Work has started on a £4.5m project to create a new museum in a building that serves as a civic centre in a Hertfordshire town.
A £850,000 grant from the Community Builders' Fund enabled North Hertfordshire District Council to refurbish Hitchin Town Hall.
The council provided a further £3.5m investment.
The building will house a museum in an expanded former gym area. Plans include a community space for residents.
Hitchin and Letchworth museums will merge in the refurbished building, expected to deliver annual savings of £160,000 a year.