Amad Jumaily's murder of wife June 'not preventable'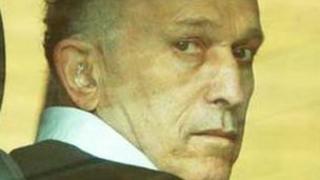 The murder of a woman confronted by her husband with evidence of an affair from a private investigator was "not preventable", a report has found.
Amad Jumaily, from Letchworth, had been referred to the Hertfordshire mental health team before he stabbed June Jumaily, 46, in December 2009.
The retired GP was jailed for at least 16 years in December 2010 for murder.
An NHS investigation said while areas of his care could have been improved the murder had been "unpredictable".
The Hertfordshire Partnership University NHS Foundation Trust (HPFT) said there were "important lessons" to learn.
'Urgent referral'
Jumaily, then 59, was referred urgently by a GP to the Community Mental Health Team in the HPFT on 15 December 2009.
Jumaily, who was identified in the report as Mr X, said he had suffered from "intermittent depression" but it had recently worsened due to his marriage breakdown.
He was assessed by a psychiatric nurse, a social worker and consultant psychiatrist in the days leading up to the attack on 23 December.
At his trial, the court heard Jumaily had employed private detectives to follow his wife and fit a tracker device to her car.
They also photographed her with a man.
When she came to the former marital home in Field Lane, Letchworth, to discuss splitting their property, Jumaily confronted her with the evidence and, during an argument, stabbed her 20 times with a kitchen knife.
'Complex history'
An NHS independent investigation team heard Jumaily had a "complex history".
Born and brought up in Baghdad, he said his father and two brothers were killed by the Saddam Hussein regime, and his mother had a history of depression.
He also had mental health problems that led to him leaving his job as a doctor.
Having reviewed GP records provided, investigators thought Jumaily might have benefited from earlier referral to secondary mental health care services in 2001-2002.
They also said it was "unfortunate" he had not received as full an assessment as he would have done at any other time of the year.
It concluded the murder was "not predictable or preventable" by health services.
An HPFT spokesperson said it had made "a number of changes" since 2009.
"We are reviewing the report in detail to see if there is more we can do to continue to ensure our services meet the needs of those who use them," a statement read.
"There are important lessons we can learn."