Bletchley Park names 'secret' World War II codebreakers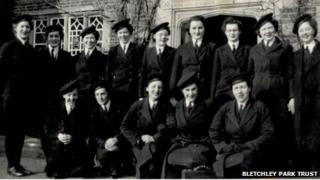 The home of the World War II codebreakers is trying to name every person who worked there.
The Bletchley Park Trust has put a "roll of honour" online, with details of over 10,000 people who worked at the Government Code and Cypher School.
Now the museum wants more veterans, whose identities were closely guarded secrets, to add pictures and stories about their work.
A trust spokeswoman has assured them, "you can tell us now".
Workers at Bletchley Park used the Bombe machine, which was developed by a team including mathematician Alan Turing, to break codes generated by the German Enigma machine.
It was used by the German navy, air force and army to send encrypted messages.
Some historians believe the work done at the Buckinghamshire site may have shortened the war by up to two years.
'Vital archive'
All the workers had to sign the Official Secrets Act when they first arrived, and their stories only started to come to light in the 1970s.
An online database now lists all those believed to have worked in signals intelligence there, and at other locations.
The trust wants those on the list to add pictures and experiences, plus anybody not already mentioned to come forward.
Katherine Lynch from the trust said: "Although the habit of secrecy has remained for some veterans after it was so ingrained into them, it would now help us bring to life this unique heritage site by telling the stories of the people who achieved incredible success and shortened the war.
"The more we know about not only what [veterans] did but who they were and how they lived, the richer this vital archive will become."
Ms Lynch says the archive allows veterans to find out how they fitted in with the rest of Bletchley's work, as they were only kept informed about their own input.
"Many are fascinated to learn what else was going on," she said.
"We have had Bombe operators who only heard about the Enigma machine when its story was revealed in the 1970s."