Havard name row: Founder Tina Beloveth Powerful fraud probe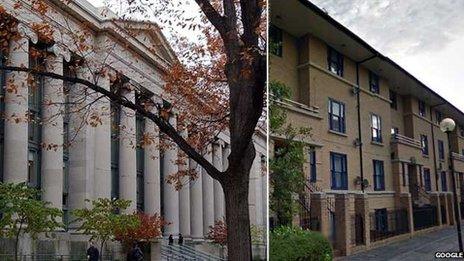 The founder of a business school being sued by a North American university over its name is being investigated by trading standards and the police.
Havard School of Management and Technology in Milton Keynes is in a dispute with Harvard University, over an alleged trademark infringement.
But the UK school does not have accreditation for courses it claims to run, the BBC has discovered.
Founder the Reverend Dr Tina Beloveth Powerful denied the allegations.
The Havard School, which was founded in 2010, says on its website it offers a number of higher education courses in business, computing, management, Bible Studies and law.
The school claims the awarding body for its Diploma & Advanced Diploma in Administrative Management is The Institute of Administrative Management (IAM).
However, IAM spokeswoman Natalie de Freitas said it had no record of Havard and the college had not applied for accreditation with them.
"Centres are prohibited from advertising that they offer our courses until after they have been accredited," she explained.
Dr Beloveth Powerful said her school was "about to be accredited".
"We are in the process, making procedures, taking practical steps," she said.
"Just because they haven't heard of me today, does not mean they won't hear of me tomorrow."
The government department responsible for higher education, the Department of Business, Skills & Innovation (BIS), said it had "no record of this institution receiving public funding".
As a privately-run organisation it needs to be accredited or it will be in breach of trading standards.
Milton Keynes Trading Standards confirmed it is investigating Dr Beloveth Powerful as part of a "multi-agency operation".
"As this is an ongoing investigation it would not be appropriate for us to talk in detail about this case," said a spokesman.
Dr Beloveth Powerful said she had "not heard" from trading standards.
"If they are investigating me, they should tell me," she said.
"Whatever it takes to prove them wrong I will," she told BBC 3CR.
In a preliminary hearing at the High Court last month, Massachusetts-based Harvard claimed there was "evidence of confusion" between the two establishments, prompting it to seek damages and an injunction against the UK organisation.
Dr Beloveth Powerful is seeking £2m in a counter-claim. The case will be heard in February.
Related Internet Links
The BBC is not responsible for the content of external sites.