Shopkeeper murder: Thilak Mohan-Raj jailed for life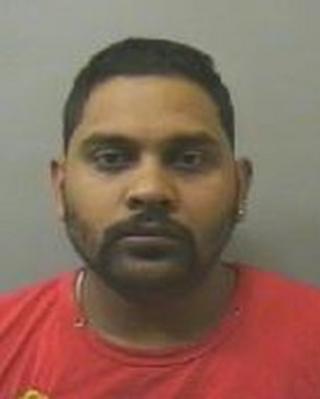 A shop worker who beat his boss to death after he was challenged over the theft of £2,500 in takings has been jailed for life.
Thilak Mohan-Raj, 25, had worked and lived at MK Food and Wine in Elstow Road in Bedford for only a few days when he murdered owner Vairamuthu Thiyagarajah, 56, on 7 April.
The judge at Luton Crown Court said he must serve a minimum of 25 years.
He was also given a two-year sentence for burglary, to run concurrently.
During the trial, the court heard Mr Thiyagarajah confronted Mohan-Raj after finding the 25-year-old had taken the day's takings from a drawer in his locked bedroom and put them in his own room.
'Merciless and ferocious'
Faced with the accusation, Mohan-Raj repeatedly struck the older man several times over the head with a heavy object.
Mr Thiyagarajah, known locally as Appa, died in hospital four days later.
Judge Richard Foster described it as a "merciless and ferocious" attack which left the victim with multiple fractures to the back of the skull.
He told Mohan-Raj: "You took his life prematurely and cruelly at a time when he was reducing his work to enjoy his family and benefit from the fruits of his hard work.
"It was not a case of self defence. You are a young fit man and he was much older."
Det Insp Liz Mead from the Beds and Herts Major Crime Unit said it was an "unplanned attack on a totally defenceless innocent man".
"[Mr Thiyagarajah] took on Mohan-Raj a week before on a friend's recommendation and tragically his kindness was repaid by theft and murder," she said.
"In relation to the family, no matter what sentence was given .... it won't bring Appa back as they try to rebuild their lives."
In a statement, the Thiyagarajah family said the loss of Appa had "left an unfillable void in all our lives".