Bletchley Park codebreaker Mavis Batey: Tributes to 'special woman'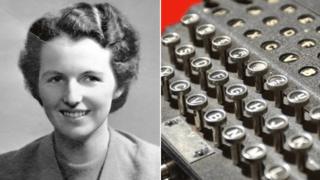 A historian has paid tribute to the "astonishing" work of a Bletchley Park codebreaker who has died, aged 92.
Mavis Batey was the last surviving member of the "break-in" experts whose decoding of Nazi messages played a pivotal role in World War 2.
Some historians believe the work at the Buckinghamshire site may have shortened the war by up to two years.
Bletchley trustee and historian Michael Smith said Mrs Batey, who died on Tuesday, was "something special".
She was born Mavis Lilian Lever in Dulwich on May 5 1921 and was studying German at University College London when the war broke out.
Mrs Batey was 19 when she was sent to Bletchley, the wartime home of the Government Code and Cypher School, to work in the research unit run by leading codebreaker Dilly Knox.
She helped decipher messages which had been created using machines such as the German Enigma.
Mr Smith said Mrs Batey "was the last of the break-in experts and the last of the top female codebreakers".
He added: "The experts [in her team] broke into ciphers that had not been broken into at all.
"What she did was absolutely critical at various points of the war.
"Mavis was something special and what she did was something special - it was just astonishing and is the end of an era."
The team's work also led to the Royal Navy's victory at Matapan in 1941.