Dog 'electrocuted' while attached to Hertfordshire shop shutters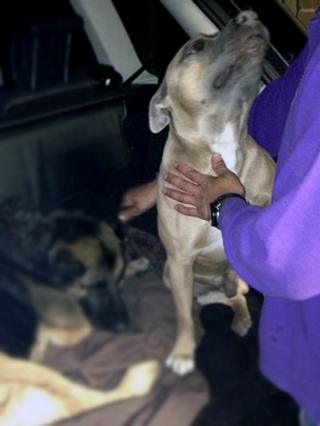 A dog has apparently been electrocuted while tethered outside a shop in Hertfordshire.
Rhylie, a Staffordshire bull terrier, was tied by his metal choke chain lead to metal shutters at Colney Mini Market in London Colney, when he "began fitting... and died", his owner said.
UK Power Networks said: "The shock was due to an internal electrical fault".
St Albans council shut the shop on safety grounds, but said satisfactory electrical tests meant it could reopen.
Matthew Callum, who has owned five-year-old Rhylie since he was a puppy, described him as "a member of the family".
'Live cable'
His sister had taken the dog for a walk on 6 November and tied him to the shutters "for a few minutes", while shopping in the store.
"When she came out, people said Rhylie was fitting," Mr Callum said.
"He had bitten on to his lead and wouldn't, or couldn't, let go.
"What actually happened was a live cable was touching the shutter... resulting in him obviously having an electric shock," he added.
"When I turned up, my dog was dead outside the shop."
Qualified electrician
Mr Callum said he received a small electric shock when he removed the dog's lead.
UK Power Network engineers were called to the shop the following day.
A spokesman said: "Investigations have confirmed the shock was due to an internal electrical fault within the property, rather than the electricity network."
Mike Lovelady, from St Albans City and District Council, said: "We served a prohibition notice on the owner of a shop in London Colney preventing it being opened to the public.
"This follows an incident... when a dog was electrocuted and died at the premises.
"The council has now received a report from a qualified electrician confirming the electrical installation now meets the required standard."
Post-mortem examination
He said the council was continuing to investigate the incident.
The owner of the shop, Pratheepan Rasalingan, said he was sad about the dog's death.
"Whatever happened, a dog died outside my shop.
"I've never had a problem with the shutters in the 10 or 12 years I've been here.
"People have been here to make sure things are in order," he said.
A post-mortem examination has yet to be carried out on the dog by a vet.