Luton burglary stabbing victim was 'protecting family'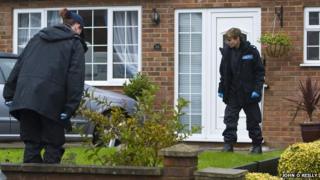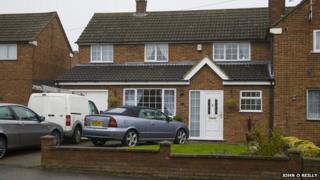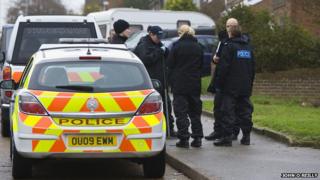 A man repeatedly stabbed by masked burglars was trying to protect his wife and daughters, police have revealed.
Three men broke into Tony Abrahams' home in Luton at about 03:25 GMT on Saturday as his family slept.
Awoken by the noise, the 47-year-old father went out of his bedroom and was attacked and stabbed.
Mr Abrahams remains in a serious but stable condition at Luton and Dunstable Hospital, with injuries said not to be "immediately life-threatening".
The alarm was raised by his wife, Trina, 52, and one of his daughters who found him hurt inside their Wellfield Avenue home.
'Held shut'
Det Insp Iain Morgan said on hearing the sounds of the break-in, Mr Abrahams got out of bed and went to investigate.
"He went to leave the room and then found the bedroom door was being held shut from the other side," he said.
Mr Abrahams managed to force open the door, only to find himself confronted on the landing by the three men in balaclavas.
It was there, upstairs in the house, that he was stabbed, before the three burglars fled the house.
Police said some property was missing.
'Doing all right'
"I am appealing to members of the public, who may remember someone coming home really late in the early hours of Saturday morning, maybe hot and dishevelled and not themselves, to contact us," said Det Insp Morgan.
Mr Abrahams' two daughters briefly appeared outside their home to say: "Dad is doing all right."
Officers have been out looking for evidence in gardens in the street.
Descriptions of the three burglars have been released by police.
One was described as a black man with light skin thought to be about 20 years old and 5ft 1in tall, the second was also a black man, who was about 5ft 10ins tall, while the third was also black and thought to be about aged 20.