Beaconsfield pays to remember WW1 hero Francis Grenfell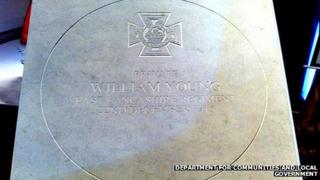 A town council is to buy a duplicate commemorative stone for a World War One hero after failing to persuade his birthplace to give up its right to the original.
Beaconsfield Town Council will spend about £300 on an official government centenary slab to honour Victoria Cross (VC) recipient, Francis Grenfell.
He lived in the town from the age of seven but was born in Guildford.
The birth places of all VC medal recipients will get free stones.
The Victoria Cross is the highest military decoration awarded for gallantry and valour in the face of the enemy.
The Department of Communities and Local Government (DCLG) commissioned commemorative paving stones to be laid in the birth places of all UK recipients during the 1914-1918 war as part of its four-year centenary programme.
Town councillor Alan Waters said it asked the vicar to approach Guildford Borough Council to ask if they would let them have their stone, but they said they wanted to keep it, so the council's World War One group has now agreed to purchase a duplicate.
"He lived in the town for a long time and it is important to remember him," Mr Walters said.
Captain Grenfell received the VC for his actions in helping to save guns during the Action of Elouges at Audregnies, Belgium on 24 August 1914.