Wenlok jug back on public display at Stockwood Discovery Centre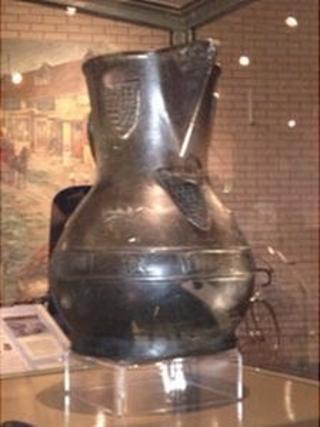 A 14th Century jug, stolen last year from a Luton museum, has gone back on public display.
The Wenlok jug, worth £750,000, was taken from Stockwood Discovery centre in May 2012.
It was recovered by Bedfordshire Police the following September at a property in Tadworth, Surrey.
Director of museums Karen Perkins said she was "thrilled" when it was returned but security needed to be assessed before it went back on view.
The bronze jug, decorated with coats-of-arms and inscribed with the words "My Lord Wenlok", is believed to be one of only three similar jugs in the UK.
It is thought it was made for either William Wenlock, who died in 1391 and was canon of St Paul's Cathedral, or his great-nephew John, the first Lord Wenlock, who was a major figure in the 15th Century.
'Treasured artefact'
A £25,000 reward was offered for the jug, which was found after an investigation that captured national attention and featured on the BBC's Crimewatch programme.
It was returned to the museum in September 2012.
Ms Perkins said: "We are delighted that such a treasured artefact is going back on display for the whole community to enjoy.
"We have taken our time to make absolutely sure that all necessary measures have been put in place to keep the Wenlok jug safe and secure, here, where it belongs."
Bedfordshire Police said while a man had been jailed for his part in the theft, no-one had ever been charged with stealing the jug and for now they had come to the end of their inquiry.
Ronald Nash, 23, from Tadworth, was found guilty of handling stolen goods and supplying cocaine at Luton Crown Court in February and jailed for three years and three months.
"If anyone comes up with fresh evidence we will investigate," a spokeswoman said.