Habib Ullah's death: Case referred to CPS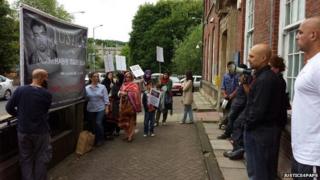 The police watchdog has referred the case of a man who died during a police search in High Wycombe to the Crown Prosecution Service.
Habib Ullah, 39, of Slough, Berkshire, collapsed during a routine stop and search in a car park in July 2008.
A 2010 inquest was abandoned and the Independent Police Complaints Commission (IPCC) has been reinvestigating the case.
The CPS will now determine whether to bring any criminal charges.
Five Thames Valley police officers and a solicitor acting for police officers have been interviewed by the IPCC under criminal caution, a spokeswoman said.
Officers cleared
Mr Ullah was part of a group searched as they sat in a car in High Wycombe.
During the search by Thames Valley Police officers, he had breathing problems and later died in hospital.
In an investigation, the IPCC interviewed the officers involved, they were also allowed to submit written statements.
In March 2010, the IPCC cleared the officers of any wrongdoing.
But under oath at the inquest the following December, the officers admitted to removing potentially key evidence from their written statements to the IPCC, claiming they were told to do so by a police federation lawyer.
The revelations led to the inquest being abandoned so that the IPCC could further investigate.
The new investigation set out to assess the impact the new evidence had on the original investigation, including seeking further opinion from doctors and experts in restraint.
'Living nightmare'
The reasons for the discrepancies between officers, statements given to the original investigation and their subsequent accounts at the inquest have also been investigated.
More than 13 vigils have been held calling for justice for Habib Ullah.
Mr Ullah's cousin, Zia Ullah, said he hoped that "justice would prevail".
"We feel reassured that the IPCC have referred Habib's case to the CPS after so long," he said.
"But this is only one step and both bodies have a great deal to do to restore our confidence as a family and with the other families who have had to wait years for answers to the death of a loved one."
Nasrit Mahmood, Mr Ullah's sister, said the last five years had been a "living nightmare."
IPCC deputy chair, Rachel Cerfontyne said: "This has been a complex investigation which I recognise has taken an unbearably long time for Mr Ullah's family.
"I am very sorry for the prolonged distress this has caused, but it has been essential to ensure that our investigation was robust and thorough."