Jimmy Savile link to 'abuse' orphanage prompts MP's concern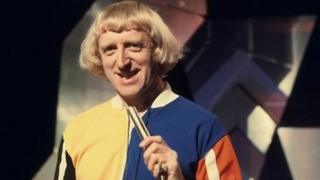 A potential link between disgraced TV star Jimmy Savile and a former Catholic orphanage at the centre of abuse claims has been raised in a letter from an MP to Bedfordshire's Chief Constable.
Cabinet minister Justine Greening has written to Collette Paul over concerns raised by constituent Gordon McIntosh.
Mr McIntosh is a spokesman for a group of former residents of St Francis Boys' Home in Shefford, who allege abuse.
It has been reported Savile was seen nearby and may have visited the home.
Bedfordshire Police said it could not comment on the ongoing inquiry but a spokeswoman added that any new information would be looked at by officers.
International Development Secretary Ms Greening, MP for the south London constituency of Putney, Roehampton and Southfields, said in a letter to Mr McIntosh she had written to the Chief Constable "asking her to open a new investigation into the matter, including into a potential link with Jimmy Savile".
She said she had also written to Home Secretary Theresa May over concerns Mr McIntosh had raised about the police inquiry into the orphanage and missing police files.
Mr McIntosh, who lives in Roehampton and went to St Francis in the early 1960s, said he was concerned about why files relating to a previous investigation went missing for months.
Bedfordshire Police started an investigation into new claims of abuse last May. In October police said it was thought the files had been destroyed but the following month police located the files.
Mr McIntosh said he wanted to know why the files from the 2002 investigation had gone missing and why the 2002 investigation failed to produce any prosecutions.
In a letter to Mr McIntosh, Ms Greening said she had written to Mrs May to "highlight your general concerns about previous investigations".
Mr McIntosh said: "I hope it puts pressure on the police to be more efficient. There are a lot of questions to be answered. Why were the files not found?"
Since Savile's death in 2011, hundreds of people around the country have reported abuse by the former presenter of Top of the Pops.
Mr McIntosh, who says he was physically abused at the home, said there are reports Savile was seen visiting the home in the 1950s.
He said he was also pleased Ms Greening had written to Ms May about the possibility of bringing a corporate manslaughter charge against the orphanage over the alleged abuse.
"Ms Greening has done brilliantly. I appreciate the support she has given," he said.
'Deep regret'
Last year a 77-year-old man, from Thetford, Norfolk, was arrested on suspicion of historical physical and sexual abuse at the home, while a 71-year-old man has been interviewed in connection with the investigation.
The home, which was run by the Northampton diocese of the Catholic church, closed in the mid-1970s.
In May, Bedfordshire Police revealed an investigation had started into abuse allegations at the home dating back to the 1950s and 1960s.
The BBC has spoken to a number of former boys' home residents who allege abuse at the hands of priests Fr John Ryan in the 1960s and Fr Wilfred Johnson in the 1950s.
The Northampton Diocese of the Catholic Church, which ran the home, has said it "deeply regretted" any hurt caused, but has stressed the "claims are not proven".
Ms Greening was unavailable for comment.