'Harvard' name-row college offers 'unaccredited' courses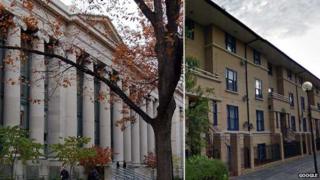 A college that was involved in a naming row with Harvard University is still offering courses without the correct accreditation, the BBC has found.
The former Havard School of Management and Technology in Milton Keynes is offering degrees that it does not have the power to offer.
The college is now called Everest School of Transformational Leadership.
However, its founder, the Reverend Dr Tina Beloveth Powerful, insisted it did have the power to award the degrees.
Harvard University, in Cambridge, Massachusetts, had sought damages from the college over alleged trademark infringement, claiming there was "evidence of confusion" between the two establishments.
'Nominal amount'
Dr Beloveth Powerful sought £2m in a counter-claim.
This week the university confirmed it had paid a "nominal amount" to the college, founded in 2010, to change its name.
In October the BBC discovered the Havard School did not have accreditation to run courses in subjects including business, computing, management and law.
Weeks later, these courses, which Dr Beloved Powerful claimed to have the power to offer, were removed from the Havard website.
But the renamed college is now offering degree, Masters and PhD courses in "Transformational Leadership" without accreditation from the Department for Business, Innovation and Skills.
Students are told they will be charged between £1,500 and £10,000 to take the courses.
A spokeswoman for the Department for Business, Innovation and Skills said the process for obtaining degree-awarding powers was "demanding" and that a four-year track record of delivering higher education was required before an application could be made.
'It's an offence'
"Everest School of Business does not hold degree-awarding powers (DAPs), has not applied for degree-awarding powers and does not feature on the Education (Listed Bodies) Order which records all those institutions that deliver degree courses on behalf of those institutions that do have DAPs," she said.
It was an offence to "award, offer or invite" applications for an unrecognised degree, she said, adding that information regarding Everest had been passed to Milton Keynes Council trading standards.
Dr Beloveth Powerful rejected these allegations and claimed that, as a private school, Everest was allowed to offer degrees, and that a number of universities in the UK were operating without accreditation.
Milton Keynes Council trading standards confirmed it was investigating Dr Beloveth Powerful and the college.
Thames Valley Police said its investigation into Dr Beloveth Powerful for alleged fraud had been dropped.