Nottingham Forest's Darius Henderson 'thought he would be attacked'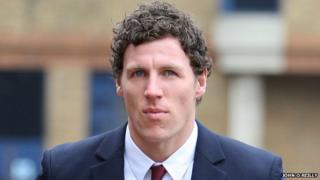 A Championship footballer has told a court he knocked a man to the ground in a restaurant because he believed he was going to be attacked.
The trial of Nottingham Forest striker Darius Henderson heard he hit John Bell in Darcy's in St Albans on 1 January 2012, leaving him needing surgery.
The row came after a woman claimed to the player's girlfriend she had slept with him, St Albans Crown Court heard.
Mr Henderson denies inflicting grievous bodily harm.
The court had earlier heard Mr Henderson, 32, from Markyate, Hertfordshire, and his girlfriend Lucy Caplan had a meal at the restaurant before going into the bar, where Hazel Kent, 48, approached Ms Caplan, claiming to have slept with him on more than one occasion.
Henderson said there was absolutely no truth in what she said and he had never met her.
The jury was told Mr Henderson had been "upset and angered" and 42-year-old Mr Bell - who did not know Ms Kent - approached the footballer at 01:30 GMT on 1 January.
The Nottingham Forest striker, who was playing for Millwall at the time, said Mr Bell had told him he was going to make him apologise to Ms Kent and would "use a bottle if I need to".
Mr Henderson said he threw two punches when the older man refused to go away and the second knocked him to the floor.
Mr Bell was left with a fractured cheek bone.
'Still a threat'
Mr Henderson said: "Even though he was smaller I was worried about what he was going to do.
"He put his head next to mine. I stood up to push him away."
Asked by his barrister Sean Minihan why he threw the second punch, he said: "In my opinion he was still a threat."
Prosecutor Alan Richards had earlier said there was "no reason to believe" Ms Kent's claims were "anything other than pure fiction" but they had "perhaps caused some tension" between Ms Caplan and Mr Henderson.
Mr Richards said it was possible Mr Bell's intervention caused Henderson to think he was somehow associated with Ms Kent.
He told the jury it was "absolutely clear" the "significantly smaller and less athletic" Mr Bell "posed no threat to Mr Henderson whatsoever".
The trial continues.