Milton Keynes The Point demolition plans set for approval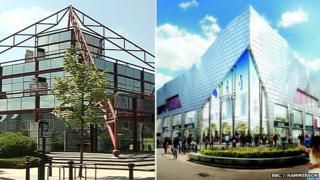 Plans to demolish the UK's first multiplex cinema, a landmark on Milton Keynes' skyline for nearly 30 years, are set to be given the go-ahead.
The Point, which resembles a giant red pyramid, was built in 1985 but the site is now set for retail development.
Campaigners have been lobbying to retain the structure, but planners have recommended the scheme be approved at a meeting on Thursday.
Site owners have said their proposals would "kick-start" local investment.
While there have been renewed calls for the building to stay intact as an important cultural site, plans to demolish it have been in the pipeline since 2012.
Speaking on BBC Three Counties Radio Paul Bartlett, who has been campaigning to keep the building, said The Point "is iconic".
He added: "It doesn't look as good as it ought to, but if the owner's were to spend a little bit of money then it could shine for Milton Keynes once again, all it needs is a little care and attention."
The development plans include new spaces for retail, restaurant and leisure operators and up to 20,600 sqm of retail space.
James Hepburn, development manager at site owner's Hammerson, said: "Our proposals will help to kick-start additional investment and development in Midsummer Boulevard and Milton Keynes more widely.
"If we are granted planning consent we will work... to deliver a high quality design for the new scheme."