Bedford Hospital warns of delay to musculo-skeletal services transfer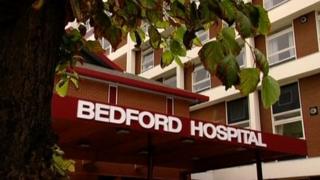 Plans to partly privatise musculo-skeletal services at Bedford Hospital could be delayed, hospital bosses said.
A consortium, run by Circle Clinical Services Limited, had been due to take over elective procedures such as hip and knee replacements, last October.
This moved to 1 April but the hospital trust said it needs "finer details" before it becomes a sub-contractor.
Bedfordshire Clinical Commissioning Group (BCCG) said it hoped the hospital would join the model at a later date.
The BCCG announced last August that Circle would oversee the delivery of all elective, adult musculo-skeletal health care in the county, through a consortium of private companies and NHS bodies.
Patient impact
Circle asked Bedford Hospital NHS Trust to be a sub-contractor, but the hospital said the company had not responded to its requests for "the fine detail".
Medical director, Ed Neale, said: "We don't know exactly what Circle will be asking for, and more importantly what they won't be asking us for, and whether that will have any impact on patients or on staff."
It is being asked to sign a private contract for elective services such as hip replacements, but would still be dealing with musculo-skeletal emergencies, such as those resulting from falls, via the NHS, Mr Neale added.
"Our concern is that if we don't have the planned work coming through, then with the way the NHS is financed, we don't know whether we will have sufficient money to provide the emergency service," he said.
Dr Alvin Lowe, from the BCCG said it had provided the hospital with as much information as it was able to and was working to make sure it had what it needed to be fully informed.
"It is very complicated from their point of view and we want to make sure they and we are entirely happy that everything is correctly lined up," he said.
"The majority of services will be delivered as of April - Bedford Hospital, we hope, will join at a later date.
"If patients choose to go to Bedford Hospital to have their hip or knee replacements, then they will still be able to irrespective of whatever contracts are signed."