Milton Keynes The Point demolition and development approved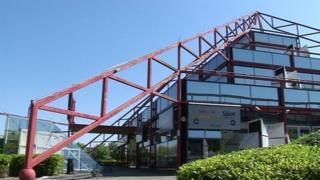 One of the first multiplex cinemas to be built in the UK which became a landmark in Milton Keynes is to be knocked down.
The Point, which resembles a giant red pyramid, was built in 1985 but the site is now set for development.
On Thursday Milton Keynes development control committee voted for demolition.
Campaigners had been lobbying to retain the building structure and convert it into a shopping mall with restaurants and leisure facilities.
Milton Keynes Council said there had been had little significant investment since Xscape, a complex including a cinema, shops, restaurants and family entertainment, was built.
Cultural site claim
The new town now has an urgent need to respond to "substantial improvements that have taken place and are planned in competing regional centres", a planning document said.
The council named the rival centres as Northampton, Aylesbury and Oxford.
Site owners have said their proposals would "kick-start" local investment.
Campaigners called for the building to stay intact as an important cultural site.
One of the campaigners, Paul Bartlett asserts that The Point "is iconic".
When demolition plans were set out he said: "It doesn't look as good as it ought to, but if the owner's were to spend a little bit of money then it could shine for Milton Keynes once again, all it needs is a little care and attention."
James Hepburn, development manager at owners Hammerson, said: "Our proposals will help to kick-start additional investment in Milton Keynes more widely."