Micah Urquhart stabbing: Neighbour 'heard death threat'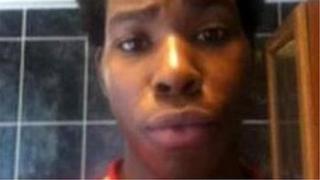 The neighbour of a stabbed teenager has told a jury he heard a death threat aimed at the 19-year-old.
Micah Urquhart was stabbed in the heart near his flat in Luton, Bedfordshire, in September last year.
Paul Fountain told Luton Crown Court he heard a man bang on the victim's door and shout, "I will kill you", on the night he died.
Paul Lynam, 18, of Midland Road, and Waqar Younis, 19, of Queens Close, both Luton, deny murder.
Giving evidence, Mr Fountain, who lived below Mr Urquhart on Hastings Street, said that in the six to eight weeks prior to the teenager's death many people had visited the flat.
'Scuffling'
He said they were "very noisy" and "left a lot of mess", referring to two regular visitors as "the ginger one" and "the mouthy one".
Mr Fountain said at about 23:40 BST on 12 September he was trying to get to sleep when he heard a "gentle tapping" on Mr Urquhart's door, which became louder and he then heard shouting.
Mr Fountain said: "He was saying, 'I know you are there, open the door'. 'If you don't open the door, I will kill you.'
"I could hear scuffling. I heard muffled replies. It went on for 10 or 15 minutes.
"I heard steps going down the stairs and then up again. I could hear fists and feet on the door. Eventually it stopped."
He said he then heard Mr Urquhart leave the flat, saying: "I have had enough of this" or "I can't take any more of this."
Mr Fountain told the court he stayed in his flat and went to sleep. The next morning he saw police outside, but at that stage he said it did not "click" that it had anything to do with Mr Urquhart, who had been stabbed in the street.
The case continues.