Ex-FBI-sting paedophile George Richards jailed for life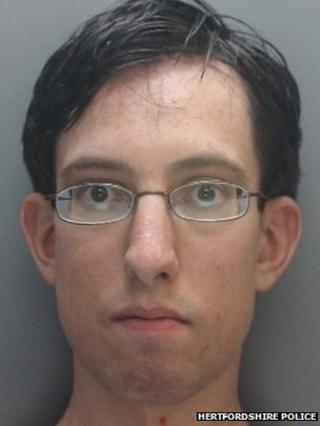 A former trainee teacher caught 11 years ago in an FBI sting targeting paedophiles has been jailed for life for trying to abduct two girls.
George Richards, 29, of Gladstone Road, Ware, Hertfordshire, tried to snatch a five-year-old and a 10-year-old girl in two incidents in the town last year.
He was jailed under the name Luke Sadowski in 2003 for arranging to buy a child from undercover FBI officers.
At St Albans Crown Court he was given a minimum term of seven years in jail.
Richards pleaded guilty to two counts of child abduction, using an imitation firearm and possessing a knife at a previous hearing.
The court heard that in 2003, while training to be a primary school teacher in Canterbury, Sadowski was jailed for three years after being caught by undercover FBI officers at a London hotel trying to buy a child from Eastern Europe for £250.
'Enormous danger to public'
A search of his university room found a safe full of handcuffs, leg shackles and a gun, amongst other paraphernalia.
The jury heard the defendant, now named George Richards, tried to abduct a 10-year-old girl on a Ware footbridge on 12 September but he fled after being shouted at by an off-duty police officer.
The following Monday, Richards went to a cul-de-sac in the town where he grabbed a five-year-old girl before running off.
Officers found him nearby and when they approached he held a fake gun at them, but was eventually arrested.
Officers found a kitchen knife, tape and two lengths of string on him. A subsequent search of his flat found he had prepared it to hold children, with windows blacked out and bolts placed high on doors.
Dante Leccacorvi, defending, said Richards was trying to "goad" police, saying he was concerned he was being followed by authorities.
Passing sentence, Judge John Plumstead said: "The level of danger you represent to the public is enormous.
"I am perfectly sure you were intent on abducting and sexually assaulting, or worse, helpless children, but you lost your nerve."
A statement from the Ware victims' families, said: "The man who did this is dangerous and whilst knowing he is now in prison may help us rebuild our lives, we have also been sentenced to living with these awful memories forever."