Micah Urquhart stabbing: Murder accused 'first saw attack on news'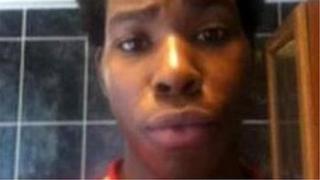 A man accused of killing a teenager said the first he knew about the attack was when he saw it on the television news, a court has heard.
Micah Urquhart was stabbed in the heart near his flat in Luton, Bedfordshire, on 13 September last year.
Waqar Younis, 19, told Luton Crown Court Mr Urquhart had caused damage at his family's home but he did not go to the victim's flat in Hastings Street to "take matters in hand."
Mr Younis and another man deny murder.
The 19-year-old, of Queens Close, Luton, stands accused with Paul Lynam, 18, of Midland Road, Luton.
Mr Younis claimed Mr Urquhart had smashed windows at his parents' house due to bad feeling between them that had arisen after a game of football in New Town Park last August.
The defendant also told the court he had previously been to Mr Urquhart's address five times to buy cannabis.
"I fell out with him after I tackled him and cut his knee. He reacted angrily," he said.
The prosecution alleges that in the days before Mr Urquhart's death, tensions had built up between him and the defendants, who planned an attack to cause him serious harm.
But asked by his barrister, John Burton QC, when he learned Mr Urquhart had been killed he said: "In the afternoon. I saw it on ITV news. It had got nothing to do with me."
'Walked away'
Mr Younis told the jury he had previously seen Mr Urquhart in the street near his family home wearing yellow gloves and carrying what he now believes were bricks to smash the windows.
He claimed he also had a knife in each hand.
But the defendant denied going to the victim's flat and making threats, saying on the night of the attack he had met Mr Lynam but when he saw Mr Urquhart in the distance he walked away.
The defendant also admitted he had recently been convicted of causing actual bodily harm to one of his three brothers.
He said he had called Mr Lynam five times on the night of the killing because he needed somewhere to stay due to the bail conditions in relation to that charge.
Mr Urquhart, a troubled teenager from Hertfordshire, had moved to his flat in Hastings Street to help him "integrate" after being in care.
The trial continues.