Luton Town Football Club welcome South Asian women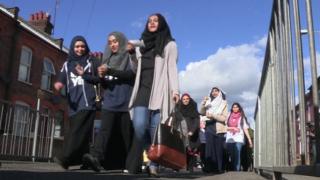 About 100 women from the South Asian community attended a football match - a first for most of them.
From Headscarves to Football Scarves is the brainchild of Butch Fazal, of the National Asians in Football Forum.
The predominantly Muslim women watched Luton Town host Chester on Saturday.
Mr Fazal said there was a "lack of provision and opportunities for South Asian women not only to participate, but also watch" football.
"This community is underrepresented in sport and we're hoping to address that," he said.
Mr Fazal's project has the backing of Luton Town Football Club, which he said had "worked very hard over a number of years to develop a good relationship with the community".
He put notices about his plans in local football clubs, community centres and mosques.
'Really welcoming'
Some students from Luton Sixth Form College, where Mr Fazal is a student development adviser, also took part.
"Some mothers I spoke to were a little concerned about allowing their daughters to attend a match, so I extended the invitation to them," he said.
"If you ask the South Asian community what it's like to be in a football stadium, the majority of them don't know, and what they do know is only what they've heard in the past."
Nadia Gulfraz, who is training to be a football coach, said by taking part she hoped to inspire more women to attend matches.
"It's just the fact that they're a little bit worried about the reaction that we might get from the public," she said.
"Just looking at us and perceiving that 'why are Asian women here?' That's the whole point of us doing it today.
"To say they are able to go to these matches, and it's not something out of the ordinary."
After the match one of the new fans said Luton's supporters were "really welcoming and made us feel part of the group... we didn't expect that to happen.
"It felt good being together, really united. We were all cheering for one team."