Micah Urquhart stabbing: Waqar Younis guilty of murder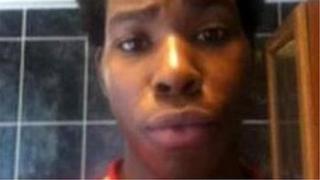 A man has been found guilty of murdering a Bedfordshire teenager stabbed in the heart during a fight.
Waqar Younis, 19, of Queens Close, Luton, denied the fatal stabbing of Micah Urquhart, 19, near his flat in Hastings Street on 13 September 2013.
Co-defendant Paul Lynam, 18, was cleared of murder, but the jury at Luton Crown Court is still considering a manslaughter charge against him.
Judge Richard Foster is to sentence Younis on Wednesday.
The court heard Mr Urquhart's flat had become a haunt for anti-social visitors and was used by Younis as a base for drug dealing.
Younis and Mr Lynam had fallen out with Mr Urquhart in the days leading up to his killing, the jury was told, and shortly before midnight they went to the victim's flat and made threats.
'I will kill you'
Neighbour Paul Fountain, who lived in the flat below Mr Urquhart's, said he was trying to get to sleep at about 23:40 BST on Thursday 12 September when he heard a "gentle tapping" on Mr Urquhart's door.
"The tapping became louder and there was shouting," he said.
He heard someone say: "I know you are there, open the door. If you don't open the door, I will kill you."
Mr Fountain said: "I could hear scuffling. I heard muffled replies. It went on for 10 or 15 minutes."
The court heard Younis delivered what looked like punches to Mr Urquhart as he lay on the ground outside the flat.
Prosecutor Vincent Coughlin QC said: "Mr Urquhart managed to get to his feet and was left to struggle to where he lived as Younis and Mr Lynam left the scene.
"He had been stabbed in the heart and, despite the efforts of the police and paramedics, he died within a short distance of where he lived."