St Albans Cathedral to be 'revitalised' with £4m lottery grant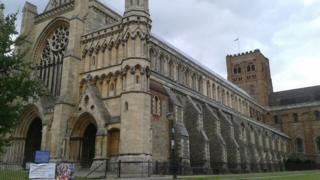 Plans to "revitalise" St Albans Cathedral have been backed by the Heritage Lottery Fund (HLF) with a grant that could be worth £4.2m.
The church has been given an initial £390,000 to help develop a project for a new entrance building and education programme.
It wants to tell the story of St Alban in a new way and attract "more diverse audiences".
A spokesman said its heritage could be presented "more effectively".
St Albans Cathedral, which sits on the site of the execution and burial of Alban, Britain's first Christian martyr, has been a site of worship and pilgrimage for more than 1,700 years and currently welcomes 160,000 visitors a year.
The initial HLF money is to help it develop detailed plans before a further £3.8m can be applied for in 2016.
The project, called Alban, Britain's First Saint: Telling the Whole Story, is set to combine conservation work with a programme of activities and a new visitor welcome centre.
The new way of telling the Alban story in the Cathedral could include the laser projection of 12th Century wall paintings and the recreation of its medieval scriptorium, an art and literature centre which produced manuscripts that were largely destroyed during the Reformation.
The project will also see the restoration of the medieval shrine of Amphibalus, the priest who converted Alban to Christianity.
Cathedral Dean, The Very Revd Dr Jeffrey John, said the money would enable it to present Alban's story and the "amazingly rich heritage" of the Cathedral more effectively.
"We feel strongly that far too few people realise the importance of St Alban as our first British saint and of St Albans Cathedral as our oldest place of Christian worship," he said.
"The HLF grant will help us put this right."
The HLF said the money would "revitalise" the cathedral.
Chief Executive, Carole Souter, said: "St Albans Cathedral has a great story to tell and we look forward to seeing plans evolve over the coming year."