Girl, 4, survives four heart attacks in 45 minutes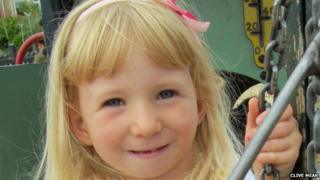 "We've got her back."
These were words that Clive and Mary-Jane Mear did not expect to hear last January.
Their four-year-old daughter Ava was suffering from a rare reaction to the Strep A bacteria. Her heart had failed three times in less than 45 minutes.
Doctors at London's Great Ormond Street Hospital (GOSH) told them she was very weak and that as parents they needed to say goodbye to their daughter.
"Broken", they retired to a parents' room and began to wonder how they would tell their son 10-year-old Alfie that his sister had gone.
Suddenly an exhausted surgeon opened the door and, after telling them the unexpected news, started to say there was a risky procedure they could try.
"I just cut him off," said Mr Mear. "I said 'do it, do it now - I'll sign whatever forms I need to later'."
Fifteen minutes later, Ava suffered her fourth cardiac arrest.
But this time she was hooked up to an artificial lung which oxygenates the blood and pumps it round the body, bypassing the heart, while dialysis cleanses the blood of toxins.
"They turned it on, it bypassed her heart and she survived," her father said.
Now, the family from Caddington, Bedfordshire, are trying to raise £80,000 to buy two more extracorporeal membrane oxygenation (ECMO) machines, which are used to treat a number of conditions, to help save the lives of other children.
Mr Mear said he believed "without a shadow of a doubt" that the machine saved Ava's life.
"If she had been at any other hospital which hadn't had the ability to bypass her heart she wouldn't be here now," he said.
"With another machine more kids will have a chance."
'Toxic shock'
Fourteen hours earlier, Ava had been a "fully fit" child, her father said, until they noticed she was struggling to breathe.
Luton and Dunstable Hospital ran tests through the night and transferred her to GOSH when they noticed a rash.
Doctors there realised Ava had suffered a toxic shock reaction to Strep A - a common bacteria which normally causes sore throats.
Somehow it had got into Ava's bloodstream and her organs were beginning to shut down.
By the following afternoon, Ava had her first cardiac arrest.
"They got her back and a couple of minutes later she had her second," said Mr Mear.
"They did full-on CPR again. She was OK, then she went for a third time which is when we were told we needed to say goodbye," said Mr Mear.
"My wife was like mush in my arms. You are numb, it is like you are on rails on a journey, you are in a process and you have to keep going.
"When people say to me I don't know how you coped - I say 'you just do because you have to'."
A GOSH spokesman said "only a handful" of cases like Ava's, whose circulation collapses in association with group A strep, have required ECMO there in the past 10 years.
"Ava is the only Group A streptococcal case who has gone on to develop toxic shock requiring ECMO at the hospital in the last two years."
During nine weeks in GOSH, Ava has had a tracheotomy and is now recovering well.
Her family hopes she will soon be referred to the Children's Trust in Surrey for physiotherapy and rehabilitation as her limbs were affected by the lack of circulation and she is struggling to co-ordinate them.
"We really don't know the prognosis, it depends on how she reacts to physio but we have a child, we have Ava - it doesn't matter what's wrong with her, at least she's here," said Mr Mear.
"She's our little miracle."