Dog calls Thames Valley Police after dialling 999 and 'breathing heavily'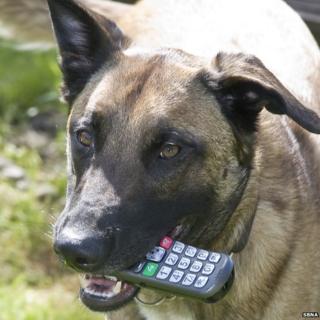 Police who responded to a heavy breather making a 999 call from a Buckinghamshire address discovered the culprit was canine.
Mary Amos-Cole's dog Leighton stole her telephone and managed to call the emergency services from her garden in Edlesborough, she said.
"Thames Valley Police arrived and said they'd heard heavy breathing and didn't know what our emergency was," she said.
"He's a very naughty dog but luckily we all took it as a bit of a joke."
Leighton, a two-year-old Belgian Malinois, is well-known to officers having set off his owner's burglar alarm a number of times by "tearing around the house", Mrs Amos-Cole said.
"He does seem to quite like the police. He's been in trouble a few times and seems to quite like them coming round. I actually think he has aspirations to be in uniform himself," she said.
Leighton regularly "steals" items and mobile telephones are a favourite.
When he took the landline phone and ran off into the garden, his owner attempted to retrieve it but had no idea her pet had managed to activate the sequence of buttons to call 999.
"Next thing I knew there was a policewoman at the door asking if I was all right," she said.
"That's when we realised it must have been Leighton.
"She said a colleague answered the call and all he could hear was heavy breathing, which I guess was Leighton panting.
"They didn't know which emergency service we needed, so she was sent to check our address.
"We all took it as a bit of a joke, but honestly, I could have ended up with the air ambulance or anything," Mrs Amos-Cole added.
A spokesman for Thames Valley Police said a "silent 999 call" was received from the address on 10 April at 12:08.
"At 12:57 it was confirmed by the occupant at the address that their dog had accidentally called 999."