Parents' anger at Buckinghamshire Sikh academy allocation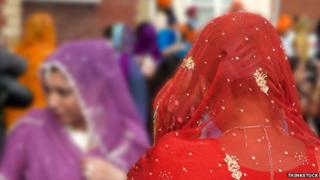 Parents have said they rejected places at a new Sikh school because their children would have felt "out of place" as they do not follow the faith.
Twenty children were overlooked for their first six preferred schools and instead allocated a place at Khalsa Secondary Academy in Slough.
Pupils at the school must eat vegetarian food and attend prayers.
Buckinghamshire County Council said 19 of the places had been rejected but parents could appeal.
A mother, from High Wycombe, said the decision to allocate her son one of the places was "ostracising children who are not Sikh".
'Infringement on rights'
The parent, who wished to remain anonymous, said: "I just think he will feel so out of place that it would be absolutely damaging to him and it is desperately unfair to put a child through that."
She said the council told her the school, which is about 12 miles (19.3 km) away, was the "closest available" but her son was the only pupil at his current Church of England school who had been allocated a place there.
Inclusive education
She added the strict "no meat" policy would be an "infringement on his freedom and rights".
Another parent said said he was an atheist.
"We would rather she was at a school that does not have such an emphasis on faith," he said.
The council said children allocated places at the academy - established by the Slough Sikh Education Trust - were either late applications, or cases where parents had only listed oversubscribed schools.
It said pupils whose parents had not accepted a place had gone on to the waiting lists for their preferred schools.
An academy spokesman said it offered an inclusive education and while they will not allow meat on the premises, children are able to opt out of the prayers.