Margaret Thatcher warned of WW2 codebreaker 'security threat'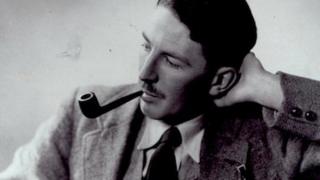 Prime Minister Margaret Thatcher was warned a World War Two codebreaker had become a security threat 40 years after his "influential" work.
Gordon Welchman's team at Bletchley Park improved the machine that broke the Enigma code, widely credited as shortening the war by two years.
Newly released papers show that in 1982 Mrs Thatcher was told of the threat when Mr Welchman wrote a book.
The Hut Six Story included details that were "still classified", she was told.
Cabinet secretary Sir Robert Armstrong's memo to the Tory leader is among documents that have been given to the Bletchley Park Trust after being held in Mr Welchman's son's attic for 26 years.
"The book goes into very considerable technical detail about the method developed for this work," Sir Robert said.
Mr Welchman, who died in 1985, devised a system to deal with thousands of messages a day encrypted by the German Enigma machine.
The Cambridge graduate saw that the Bombe code-breaking machine needed enhancing and drew up a production line system which became the centre's wartime working model.
His biographer, Dr Joel Greenberg, said this had been "revolutionary" and made him one of the centre's "most important figures".
In 1941, Mr Welchman and four other men known as The Wicked Uncles - including Alan Turing - personally delivered an influential letter to Prime Minister Sir Winston Churchill asking for more resources for Bletchley Park.
Mr Welchman then became the head of Hut Six, which was responsible for breaking German Army and Air Force Enigma ciphers, and was the first to detail the work of the codebreakers in his 1982 book.
The book was not banned but Mr Welchman lost his US security clearance and was forbidden to discuss his book or his wartime work, with the media.
Three years after its publication, a letter was sent from GCHQ Director Sir Peter Marychurch accusing Mr Welchman of damaging security.
The trust said the documents and possessions would help tell the story of a man whose work was "crucial" to Bletchley Park's success but of which "most people have never heard".
Mr Welchman's daughter said: "I was unable to throw away almost anything relating to my father and I'm enormously grateful that someone else was interested in him."