More swans missing from Mount Farm Lake, Milton Keynes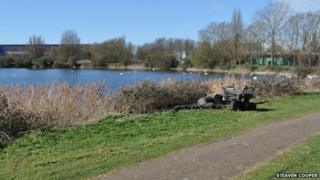 A further 32 swans are missing from a lake in Milton Keynes where three severed swans' heads and a swan's body were found last month, say police.
The remains of the swans were found in Mount Farm Lake by members of the Beacon Angling Club in the first two weeks of April.
Thames Valley Police said it was appealing for information after more swans were found to be missing.
Bletchley Neighbourhood Policing team has increased its patrols in the area.
PC Ray Rolfe, said: "I would appeal to any person who has seen anyone or anything suspicious in the area, or with any information about the incidents, to call police immediately.
In April, Steaven Cooper, secretary of the Beacon Angling Club, said: "The swans are friendly, and an easy target. I'm beginning to think people are doing it for food."
The swan's body was found separately from the heads so it is unclear if three swans or four were killed.
Mr Cooper added: "We need to find out what's going on and put a stop to it as it's a public park used by families with children as well as anglers."