Leighton Buzzard flying dog gets 'crew card'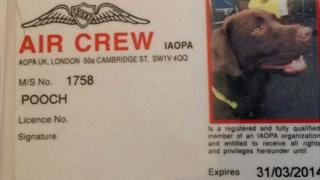 The only dog to be awarded an "air crew member" card by a pilots' association is to have it renewed after clocking up more than 50,000 miles in an aeroplane.
Callie, a chocolate Labrador, has been flying in her Bedfordshire owner's Cessna for almost three years.
Graham Mountford, from Leighton Buzzard, has taken his dog on about 120 journeys, "mainly to beaches", he said.
The Aircraft Owners and Pilots Association (Aopa) gave her the card when they were told about her journeys.
Mr Mountford takes Callie, aged three, on journeys as far away as Cornwall, Wales and Scotland.
"We first tried her in the plane when she was a few months old, just taxiing around the airfield, and she seemed to love it," he said.
Callie sits in the back seat of the Cessna, wearing a harness strapped to a seatbelt.
"She has a fluorescent jacket too, and whenever we get that out, she wags her tail and gets very excited as she knows we're going flying."
Most journeys involve visiting beaches, which are Callie's favourite places, Mr Mountford said.
"She especially loves Barra because the landing strip is actually on the beach so she can just step straight out and get on with playing."
Although she sleeps through most journeys, Mr Mountford said she always enjoyed taking off and landing, before "losing interest".
She also enjoys her favourite treat, a sausage, which she is given after most flights.
Callie's "crew card" from Aopa states she is a "registered and fully-qualified member" of the organisation.
More importantly, it means Mr Mountford can take his dog through pilots' security channels at airports.
"He told us that was sometimes a problem, so when we heard how much time she'd spent in the air, we thought the card might help," an Aopa spokeswoman said.
"It is only a bit of fun, but she is the only dog we've issued with a card, and it's going to be renewed."